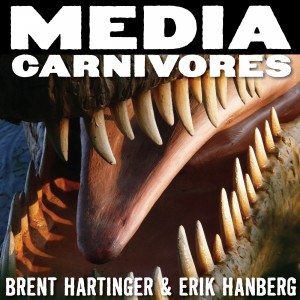 So here's a really fun new project!
Seattle author Brent Hartinger and I are starting a podcast called "Media Carnivores."
The first episode is online or you can subscribe directly from iTunes. There's a Twitter feed for the episodes too.
So what are "media carnivores?"
Brent and I coined this term, so we get to decide! Media carnivores devour media–books, movies, television, plays. Everything. This podcast is our chance to talk about it. Not just about the shows we're watching. But about what it all means. About where media is heading, as best as we can guess it.
Sometimes that means talking about our own experiences writing books or producing other kinds of media.
We are planning to host the show at least every two weeks, but sometimes it might be even weekly.
Where this all started
I have thought about a podcast for awhile, but I was inspired once more after my #Author2Author talk with Marissa Meyer. That really focused on the craft of writing and this podcast has a very different focus. But it was what got me really thinking about launching this. I've also been thinking about it as a new way to communicate outside of Facebook and blogging.
Fortunately, Brent had been thinking about the same thing! We've had many conversations about writing, publishing, the arts, and storytelling in media over the years, that it felt really natural to transition it to a podcast.
Where this all is going
We'll be talking about books, movies, television, and all kinds of media. That's all I know so far! I love this kind of work: produce something and then try to improve it next time. Iterate, iterate, iterate. It's not a perfect first episode. But I think we can keep making it better as we go along and explore the medium. That's my main goal.
Many people to thank!
There are a lot of people to thank! First and foremost: Mary, who created the ferocious cover art for us. It really captures this project.
I also want to thank Doug Mackey, who recorded the opening drums and lion's roar at the start of the podcast. I LOVE that we start with something that really reaches out and grabs you. Like a carnivore.
My serious thanks to Pat Flynn, too, for his awesome video tutorials that helped me get this started. There were so many more steps to podcasting than I expected. If you're thinking about podcasting, his resource page is the place to start.
I also want to call out some Tacoma locals–Jackie Casella, Marguerite Giguere, and Dan Rahe. Our Twitter and coffee conversations reminded me that I should keep moving forward with this project for a variety of reasons, and not let it die half-way. I'm very glad I persevered.