I have a pretty good running tally of my weekly sales between all my books. I'm sure there are some that I missed here and there, but in terms of trends, it's pretty helpful.
I was interested to see how my first week of The Lead Cloak stacked up to some of my other releases. Here are all six books and their first week of sales, in chronological order.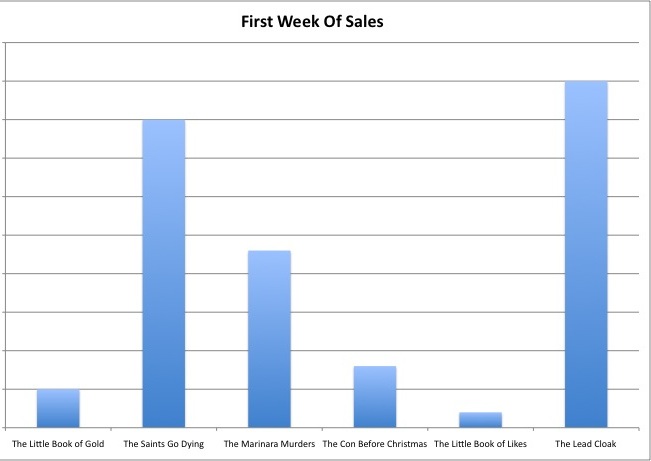 Personally, I was glad to see that The Lead Cloak was better than the rest. I put a lot of work into it!
But what did strike me is the falling off of the first week over time from The Saints Go Dying to The Little Book of Likes. I hadn't noticed that until I created this graph.
This is in part happenstance: The Con Before Christmas and The Little Book of Likes are both pretty short and with smaller markets (one is the third book in a series, the other is written for executive directors of small nonprofits).
That said, there's probably something more going on here. There is a lot more competition for books.
In 2010, I emailed some friends about The Saints Go Dying and it hit the Top 10 Mystery list, and then stayed on the Top 100 Newly Released Mysteries list for a full week.
A book would have to sell thousands of copies to do that today.
But the real truth of the matter is that most sales don't happen in the first week. I'm very glad that The Lead Cloak had a good opening out of the gate. It doesn't mean much in the long run, though.
I say it a lot, but these books will be around forever. The Marinara Murders has sold more than 8,000 copies. Most of them in 2012 and 2013. Its relatively slow start didn't affect that.
Sales happen over time. They go in waves and spikes. If you're thinking of self-publishing, don't worry about whether people find your book on the first day or in the first week. Keep at the marketing, and good things will happen.