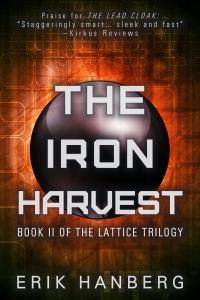 If you've been waiting to hear when the second book of The Lattice Trilogy is available, I have good news for you!
My sales pitch is pretty short: big ideas, big action. It has chases, shoot-outs, and what I hope is the coolest/most interesting storm in science fiction.
The book is available today in ebook widely. Here are links to the book in the most common online bookstores:
Did I mention that the book is just $3.99!
If you want to get a little bit of a "behind the scenes" of the writing and research I did, Brent Hartinger interviewed me about the book on the most recent episode of our podcast so check that out as well! It's got some very light spoilers which are so light I almost hesitate to mention them, but after the freakout about spoilers for The Force Awakens, it seems like that's the prudent thing to do.
I should also add, if you want to check out Book I of The Lattice Trilogy, The Lead Cloak is available widely as well, and the ebook is free for a limited time. Here's the Kindle link for The Lead Cloak.
And finally, I'm excited to say that work on the final book of the trilogy is well underway! So on to Book III.