It seems I mostly post about resolutions these days, with almost nothing in between. In 2016 and 2017, I had four main goals for myself.
Read more.
Write more.
Play more games.
Spend more time outside.
How did I do?
Read More
I did terribly. I'm not sure what happened, but after reading 34 books in 2015 and 2016, I dropped to 22 this year. That's a precipitous drop.
Of what I read, I really liked Dark Matter, Sourdough, The Signature of All Things, Beneath a Scarlet Sky, The Name of the Wind, and The Wise Man's Fear.
For 2018, I'm aiming for 36 books, or three a month. To do this, I'm going to focus on genre reading. I think I got caught on books I "should" read and it slowed me down. More sci-fi, more mysteries. And more setting down books I'm not interested in.
Write More
I did pretty well here because I finished the first two drafts of The Tin Whistle. Huge step, and it means I'm likely to get the book out in the first few months of 2018. The trilogy will be complete!
I also wrote a short story for the first time in ages that I may decide to do something with.
For 2018… this is tricky. I do have that book I wrote in 2016, That Time in Venice, that is still on my mind, but in truth it would take a complete overhaul to make it work the way I want it to. Possibly change of perspective, maybe more. I'm not sure I have that in me.
In short, I don't know what I want to write in 2018. Maybe I should update this blog more!
Play More Games
Game nights of Acquire and Risk Legacy became a more regular thing, which is great. I also played in two chess tournaments.
I think I should stop counting games played on my phone toward this goal as I did in 2018. In general, I want less phone to be a goal in 2018, and I don't want this working against that goal.
Spend more time outside
We did pretty well as a family, with hikes around our parks, including a hike to see spawning salmon at Swan Creek. We also hiked to the end of Point Defiance for the first time ever. I took transit regularly, which put me on foot as well.
I think the key to really making this happen in 2018 is getting outside in the off-season. We explored Deception Falls off of Stevens Pass in December (pre-snow) and even in the wet and the cold, it's still good to get outside.
So more of that in 2018.
Less phone time
Less time on Twitter and on my phone is going to a new goal for 2018. I'm going to keep these, since they are still important to me.
More bread baking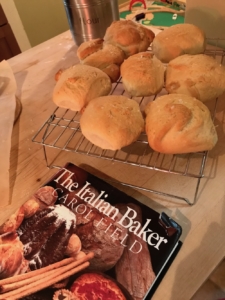 I'm going to elevate this to an actual goal for 2018. I've been baking no-knead bread for about 10 years now, and I'm for the first time branching out into kneaded bread (see picture of some olive oil bread I just made). It's fun to explore that and get my hands covered with flour and dough. More of this in 2018 too.
Happy new year!