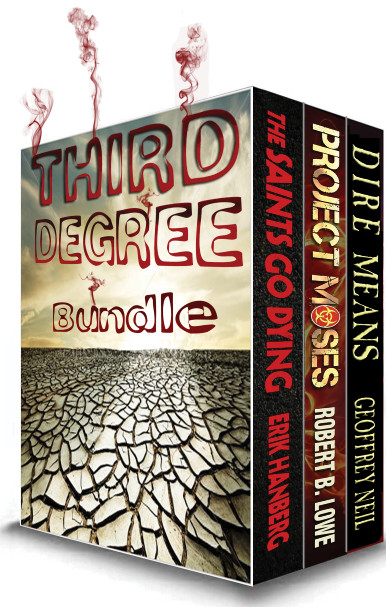 Here's something fun I'm trying out. I was invited to work with two other authors to package our mysteries together into a single bundled download. We called it "The Third Degree Bundle."
The idea was that you get three books for the price of one. And maybe find some new authors to check out! It's a low-risk way to fill your Kindle with 885 pages of mystery and thrillers!
Here are the three books:
The Saints Go Dying, by Erik Hanberg
A computer hacker turned detective is hunting a serial killer in Los Angeles targeting modern day saints.
Project Moses, by Robert B. Lowe
Reporter Enzo Lee uncovers a bioterrorism plot that he must expose before time runs out for him and a lovely target of the conspiracy.
Dire Means, by Geoffrey Neil
A vigilante decides to end homelessness by terrorizing a coveted beachside city, making flagrant public kindness the only way to avoid being targeted.
Thanks for the chance to partner with you on this, Geoff and Bob!