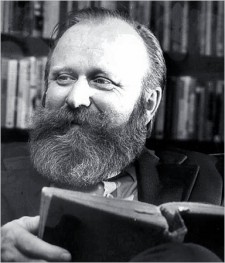 I remember as a kid opening up "Dune" and seeing a picture of Frank Herbert, with his big bushy beard. His short author bio listed him as being from Tacoma. I was blown away. I was pretty young, and for some reason it hadn't occurred to me that someone "famous" would have come from Tacoma.
For some reason, I've always held that with me: Frank Herbert was a Tacoman. Which is why I was so excited to read his biography and discover what a life he lived while here, and how important Tacoma was to him and his writing.
I wrote about him in January, and I focused on his close ties with Tacoma, which I cataloged for the online magazine Post Defiance.
In the six months since then, a lot has been going on, as people have started to rally around the idea of remembering Frank Herbert by naming a park after him.
It's been very exciting to be part of a grassroots process to build awareness and interest in the idea.
That work started to get noticed when Exit133 covered the Landmark & Preservation Commission's decision to unanimously support the idea of creating Frank Herbert Park on the waterfront, on the slag peninsula that creates the yacht basin. The never-before opened area could be a great place for the name, especially given Herbert's strong environmental messages, which were in a very real way inspired by the pollution created by that smelter that created that peninsula. (Again, read the Post Defiance article!)
Then the Tribune's Peter Callaghan wrote a column with his support and did a great job laying out the case for the idea and why it's such a good fit.
That's when things really kicked into really high gear.
His column was adapted for the AP Wire. Suddenly it was on hundreds of newspaper sites, even getting a mention on NPR's Morning Edition! It also was received very favorably in blog posts, comments, and tweets–too many to share all of them. Here are a few that stood out:
Paul Constant at The Stranger: "I am absolutely in favor of this. Herbert's Dune series is rightfully popular with sci-fi fans, but it's also an often-overlooked work of Northwest literature. Naming the park after Herbert would be an effortless way for Tacoma to raise his name recognition as a Northwest author. You should read Hanberg's whole great post about Herbert's relationship to Tacoma and why this park would be a good idea over at the Post Defiance."
Vulcan Inc (a Paul Allen company):
Tacoma should name a Park after Frank Herbert! Via @PostDefiance: Son of Tacoma, Father of Dune http://t.co/2EjedsqK4z

— Vulcan Inc. (@VulcanInc) June 20, 2013
EMP Museum in Seattle:
@sandarcon Seeing as how dunes are constantly changing and spreading over great distances we strongly endorse this idea. #PlanetHerbert

— EMPmuseum (@EMPmuseum) June 20, 2013
And Robin Hobb, a co-author with Brian Herbert, Frank's son who has continued writing in the Dune world:
Doesn't that sound good? A park named for a Tacoma born author who helped raise environmental awareness? …

What remains [of Asarco] is a slag heap that is going to be reclaimed by the city and rehabilitated into a park. The park might be called Penninsula Park. Or, if supporters get behind it, we might have Frank Herbert Park in Tacoma.
Yes.
This is all in addition to the 200+ names who have signed the online petition to make this happen.
All in all, a very exciting day. Thanks to all the people who expressed their support!