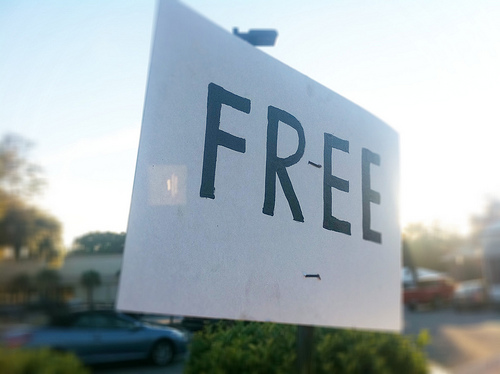 Last year, I had one of my biggest weeks of sales ever for The Marinara Murders by making it free.
The book was enrolled in Amazon's KDP Select, which meant that in exchange for 90 days of exclusivity with Amazon, I got some marketing benefits–the biggest of which, was the ability to make the book free for 5 days.
I tested this with modest success, until last March when the website EReaderNewsToday.com listed my book as a free one. I went from a few hundred free downloads to 11,000. Sales of The Saints Go Dying boomed, and then in the next few days sales of The Marinara Murders exploded. I sold hundreds of books, at full price, as word of mouth (and Amazon's algorithms) did their work.
But those days are almost certainly gone for good.
Next month, Amazon is changing its affiliate rules. Any site whose affiliate link causes more than 20,000 downloads of free books will not get their earnings for the month. What does that have to do with free books? Well, sites like EReaderNewsToday get a huge portion of their revenue by sending thousands of people to Amazon–via affiliate links–to free books. Then they get a very small percentage of sales that customer makes on Amazon for the next 24 hours. This makes sense if you are linking to an actual paid product. But Amazon saw it as a loophole in their affiliate program, and it's a loophole they're closing.
That means that the big sites that drive thousands of free book downloads have every incentive to reduce their free offerings substantially, so as not to hit the 20,000/downloads in a month threshold, and lose all that month's revenue.
It's an open question whether this will be good for authors and marketing.
On the one hand, a good tool for marketing is gone. On the other hand, KDP Select's effectiveness was already lessened (in April of last year, Amazon made some algorithm changes that reduced the post-free bump).
And, realistically speaking, while getting 10,000 new readers was great, reducing the massive scope of the free book economy is probably a good thing for self-published authors.
KDP Select had a good run. I'd already taken my books out of it, though, so that I could publish them on the Nook, Apple's iBookstore, Sony, and other e-readers.
If there is any truism for marketing independent books, it's that what worked last year likely won't work this year.
Photo by Flickr user khawkins04 used under Creative Commons license