It took me more than two years of writing and editing, but I'm finally ready to announce my next novel.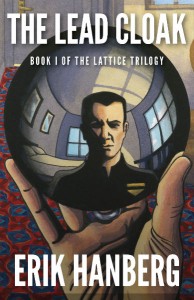 The Lead Cloak 
The Lead Cloak is a science fiction adventure set seventy years in the future. It will be available in three weeks, on October 15. Below is the short trailer I created for it, and there is a whole website with information about the book.
I am so excited to share this novel. It is an adventure with a lot of action and the highest of stakes. It is a mystery, set in a world without secrets. And it is—I sincerely hope—full of big ideas about privacy, class, and our relationship with technology.
The Cover 
I have to take a moment to recognize the great work that was done on the cover. Mary has designed all of my covers to date. We knew that this one needed a different feel, and we approached Tacoma artist Chandler O'Leary to create the art for the cover.
Chandler was an early reader of the book, and her insight into the story helped inform how we approached the cover. Together we selected a key moment in the story for the artwork, which you can see here. I think it's very striking, with a hint of classic science fiction, but also unique. I love it!
The Trilogy 
The Lead Cloak is "Book I of The Lattice Trilogy." I will confess to being a little hesitant to put that on the cover. Would it discourage people, when the next two books are not written? But I felt it was important, because this story was very much conceived as more than just a single novel. To be clear: The Lead Cloak is a full novel. But it is the first act in a larger story that will be told in Book II and Book III.
And I am hard at work on Book II.
How To Get It
The book will be available everywhere on October 15, and we will be kicking it off with a launch party at Kings Books in Tacoma. If you live near Tacoma you should plan to attend!
You can also pre-order your eBook with Kobo or on the Apple iBookstore, which makes an eReader that has been embraced by independent bookstores. By October 15, it will be available on Kindle, Nook, and more. An audiobook will shortly follow.
Please consider signing up for my author newsletter. Because of the ins and outs of the publishing process, some of these formats might be available before the 15th, and if that is the case, I will email it out to let you know.
The newsletter is only used for new releases and new formats. I will not spam you, I will not sell or give away your email address.