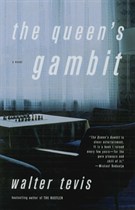 Normally I post book reviews on Goodreads, but I wanted to make an exception for this one, since it fits with the posts about games this year.
The Queen's Gambit [that's an affiliate link, btw], by Walter Tevis, was just a joy of a book. A young orphan named Elizabeth Harmon is discovered to be a chess prodigy at age eight, and the book follows her story as she developers her talent. You don't have to know chess to enjoy the book, although I was glad to discover it while in the midst of several games.
If you're familiar with the Paul Newman movie The Hustler, based on another book by Tevis, you might have a good idea about the book: a young person who is the astoundingly good at something (whether chess or pool) fights hard to become the best, while battling personal demons at the same time.
Tevis might have a formula, but man does it work. Really enjoyed this book.
As for other reviews, go ahead and friend me on Goodreads if you want to keep up on what I'm reading on a day-to-day basis. Goodreads is a great example of a niche social media site: it's useful even if you don't have a lot of friends on it, but it gets even more useful if you do. I find the structure of the site really frustrating sometimes, but it's great to have a record of what I've read recently.